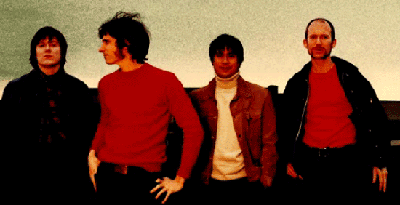 THE FLASHING LIGHTS - SWEET RELEASE
With their magic solution of red-hot guitar rock and heart wrenching melodies, Toronto-based The Flashing Lights continue to dazzle and amaze people from coast to coast, on both sides of the border and overseas. The Flashing Lights are led by former Super Friendz singer and guitar whiz, Matt Murphy, and rounded out by ace drummer, Stephen Pitkin, the intuitive Henri Sangalang on bass and the always riveting Gaven Dianda on organ and tambourine.

Critics raved far and wide about the band's first album, Where The Change Is. Rollingstone.com proclaimed it one of the best records of 2000; it won Best Local CD in eye weekly's (Toronto) 2000 Reader's Choice Awards, and England's Uncut magazine called it "anthemic rock'n'roll with crystal clear melodies and gorgeous vocal harmonies… a genuine find." TV appearances (MuchMusic, Jonovision, Open-Mike With Mike Bullard), three singles, two videos ("Highschool" and "Elevature" were in rotation at MuchMusic), the Elevature E.P., a U.S. record deal with respected indie-label spinArt, and an international deal with the expanding empire of Brobdingnagian Records have all neatly fit into the band's resume in the two years since the release of Where The Change Is.

The band is just as well known for its fantastic and kinetic live performances. Shows with the Barenaked Ladies at Toronto's Air Canada Centre (playing to 15,000 people) and Sloan at Massey Hall to 2,200 people; performances at Edgefest and Freshfest, and a packed showcase at this year's SxSW festival cap a couple great years of tour success.

And now comes the much-anticipated Sweet Release. Packed with unforgettable melodies and crushing pop arrangements, this album will bring wider national and international attention to this great Canadian band. Recorded over a six-month period with Ian McGettigan (Thrush Hermit), Sweet Release swells with imagination and displays the easy confidence and playfulness that people have come to associate with The Flashing Lights' live show. That said, the record goes beyond merely reproducing the band's live sound… well beyond. On "Too Delightful", the knock-out first single, one hears a satiric melding of German art-rock and American folk; on the cinematic "Keep It To Yourself", the auto-harp heralds a moment of sonic clairvoyance; and on the all out rocker and proven live favourite, "It's Alright", it's the Monkees-meets-The James Gang at the Isle of Wight. The record is full of great singing and powerful harmonies thanks, in part, to guest appearances by Carl Newman (The New Pornographers, Neko Case) and Mike O'Neill (Inbreds). It was recorded with the same spirit of adventure and abandon with which The Flashing Lights approach all undertakings, and the result is eleven wonderful tracks.
• Radio and video singles, commencing with "Too Delightful".
•Active touring throughout 2001.
• US and international release for Sweet Release.
•Consumer and co-op advertising.
•Postcards, posters, play copies.
•Extensive print media, online, and radio promotion.
Also Available: Where The Change Is 23339-0001-2, ; Elevature 23339-0002-2, .

Release Date: May 1, 2001
File Under: Pop-Rock
CD: 23339-0003-2
UPC: 623339000321
Source: Outside Music